White Glo Toothpaste Benefits

Why White Glo ?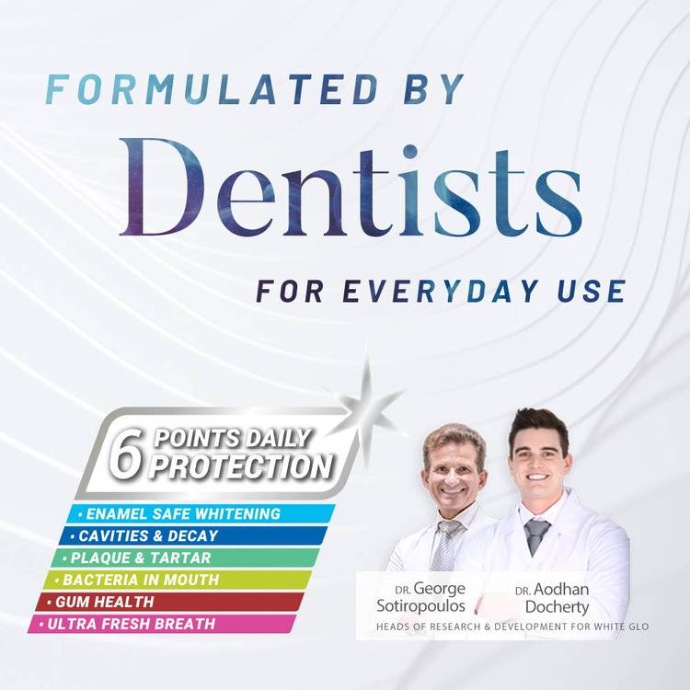 Enamel save whitening toothpaste
What is it?
Some whitening toothpastes use harsh ingredients which in the long term can strip your tooth's enamel or natural protective coating
Why White Glo?
White Glo toothpastes contain mild abrasives which combined with a brushing motion gently and effectively removes stains from enamel, revealing a brighter and whiter smile. Specifically, the abrasive used is calcium carbonate, which is much gentler than the more commonly used hydrated silica, a cheaper ingredient used in mass produced toothpastes, making it perfect for people with sensitive teeth. It also has the added benefit of remineralisation to strengthen teeth and prevent any future sensitivity.

Cavities and decay toothpaste
What is it?
Cavities can be formed by sugar and starches turning into acid through bacteria in the mouth otherwise known as dental plaque. Nothing worse than having the most beautiful smile with small holes in your teeth!
Why White Glo?
Through our unique formulation of fluoride and calcium carbonate, White Glo toothpaste strengthens teeth by increasing the remineralisation rate of enamel, allowing the renewed crystals to become stronger and more resistant to acids which we are commonly exposed to through eating and drinking. In doing so, this helps to reverse the early signs of tooth decay and prevents the growth of harmful oral bacteria, leaving you with fresh breath and a healthier mouth.

Plaque and tartar toothpaste
What is it?
Formed by a combination of saliva, foods and fluids, dental plaque is a sticky, transparent yellow film that is constantly forming on your teeth and along the gum line. Often this is the cause of many dental problems including cavities, and gingivitis which contributes to bad breath and yellow teeth. If plaque is not removed regularly, it mineralises into tartar, a hard yellow or brown deposit that binds to the teeth and can only be removed by a dentist professional.
Why White Glo?
White Glo provides an all-in-one solution to remove plaque by brushing twice a day with White Glo fluoride-enriched toothpastes which also contain a handy bonus pack of flosser toothpicks to remove hard to reach plaque between teeth after a meal. In addition, incorporating a White Glo alcohol based mouthwash that contains bacteria fighting ingredients to your morning routine, can further fight plaque and tartar.

Bacteria in mouth toothpaste
What is it?
Bacteria in plaque attacks tooth enamel and the roots of your teeth by producing acid. This is caused by the bacteria metabolizing carbohydrates and sugars, causing the thin sticky film that forms on your teeth as you sleep and throughout the day. Very uncomfortable!
Why White Glo?
Brush, rinse and floss with White Glo oral care products every day to remove bacteria for a healthier mouth. In doing so, our products synergistically work together to achieve optimum results giving you a radiant, sparkling smile.

Gum health toothpaste
What is it?
Do your gums appear dark, receding or bleed after brushing your teeth? Often this is caused by brushing too hard, but can also be an early sign of gum disease including gingivitis and periodontitis. Caused by a buildup of dental plaque, it crystallites on gum lines causing symptoms including but not limited to bad breath, red, swollen and bleeding gums, sensitive teeth and receding gums, eventually leading to tooth loss. Not fun!
Why White Glo?
Often the best way to effectively combat gum disease is prevention and White Glo has everything you need including fluoride toothpastes, optimized toothbrush design, flosser toothpicks and non-alcoholic mouthwashes including White Glo Charcoal Deep Stain Remover Mouthwash or White Glo Total Mouth Detox Mouthwash

Ultra fresh breath toothpaste
What is it?
Everyone hates bad breath. Imagine you're on a first date and all you can think about is not speaking so your date doesn't run and scream from you! Or imagine you're meeting someone for the first time and you're mumbling and bumbling to avoid having bad breath escape from your mouth! This is all caused by having a dry mouth, morning breath caused by trapped food particles, infrequent flossing, plaque buildup and eating certain foods such as onion or garlic.
Why White Glo?
White Glo has everything you need to combat bad breath including our toothpastes containing extra fresh ingredients such as mint, wintergreen and rosa canina fruit oil to give you pleasant, irresistible breath for up to 12 hours. Not only that, we have a dedicated charcoal range which binds to and draws out bacteria's that cause bad breath as well as toothpastes, flossers, mouthwashes, you name it, we have it.